Toastmasters International, Division-B, District-79, in association with Dubai Men's College Toastmasters Chapter are pleased to invite you to an exciting journey of learning.
Special Presentations by Mark Hunter, 2009 World Champion of Public Speaking!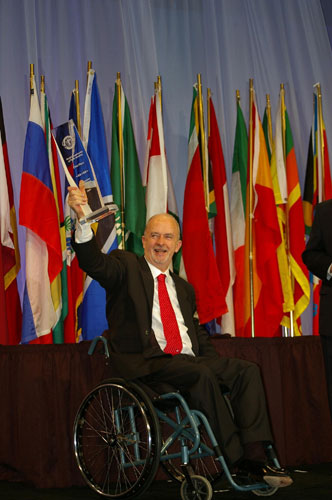 Mark Hunter is the current World Champion of Public Speaking. He won this title at the Toastmasters International Convention held in Connecticut (USA) in August 2009. Mark comes from Brisbane, Australia. A Toastmaster since 1994, he was five times Australian Champion before becoming the World Champion. Passionate about Toastmasters, he firmly believes in the organization's capacity to provide personal and professional development.
Mark is a school principal and owns a business as life and executive coach. He trains organizational leaders in the science of coaching for performance development. He presents keynotes, workshops and educational sessions for organizations at home and abroad.
Mark had an accident in 1975, and has since used a wheelchair. He was the first primary school teacher in a wheel chair in Queensland, and is the only school principal in Australia using a wheelchair. He is a strong advocate for people with a disability. He has persisted when times were tough, and persevered when those around him would have him do otherwise. He is both an optimist and a risk taker. He has traveled the world, is passionate about life and lives it accordingly. He is excited about coming to the UAE to meet with hundreds of Toastmasters.
The Sessions
Session 1: "The Mark of a Champion!" Nov 20, 2009 (Friday),
Time: 3 pm – 6 pm
In his presentation Mark will share his journey as a Toastmaster and journey to being the World Champion of Public Speaking. He will discuss those elements of a speech, which he believes make a real difference for an audience and present the speech that won him the World Championship.
Charges: AED 50/- per person (Toastmasters and Guests)
Venue : Dubai Men's College (Main Auditorium), Academic City, Dubai
Session 2: "Tomatoes, an Apple, and a Coconut" on Nov 21, 2009 (Saturday) – (From a Good Speech to a Great Speech) Time: 7:30 pm – 9:45pm
In this workshop for Toastmasters, Mark will analyze and deliver the speech with which he won the World Championship of Public Speaking, at the International Convention in Connecticut (USA) in August this year. He will speak on having a winning attitude, the use of humor, cohesion in writing, writing for milestones, being authentic, and maximizing who you are. With contest preparation going on full swing, Mark will give fresh insight on content selection and development, hints for writing, and what to do just before beginning your presentation. There will be opportunity for discussion and Q&A.
Charges: AED 50/- per person (Toastmasters and Guests)
Venue : Al-Futtaim Training Centre, Rashidiya, Dubai.
(Limited Seats: Only 100 – First Come First Serve Basis)
Kindly pre-register with your Club by November 15, 2009! Pls contact any of the following persons;
Imran Akhlaq (Dubai), Mob: +971 50 5145919, Email: imran@amg.ae
Dhananjayan / DJ (Dubai), Mob: +971 55 8163071, Email: dhananjayan.munirathinam@gmail.com
Pesan Kumar (Sharjah & NE), Mob: +971 50 4539244, Email: pesankumar@gmail.com
Salim Sayyid (Abudhabi / Al Ain), Mob: +971 50 6612486, Email: salim.sayyid@ali-sons.com
Omana Kallarakkal (Abudhabi / Al Ain), Mob: +971 50 6119747, Email: omana@adma.ae
Read more about Mark Hunter in Toastmasters.org
Mark Hunter's winning speech
A Sink Full of Green Tomatoes
MARK HUNTER M.Ed. Admin., B.Ed., ATM., Cert. Coach.
Literature is literally littered with lively legends. Amongst them rides Don Quixote – the Man of La Mancha. An idealistic knight who fought for the rights of others and dared to dream the impossible dream.
Mr chairman, ladies and gentlemen, while I dare not sing that song for fear it could be your nightmare, I like many of us here have dreamed impossible dreams. But to make one of my dreams even remotely reachable, I had to learn an extraordinary lesson, perhaps a lesson for us all.
At the age of 22 an accident changed my view of the world completely. Before the accident, I saw the world from an invincible 6 feet high, now I see it from the height of the consummate navel gazer.
In my new position, short and seated and recycled, I soon faced discrimination in work and life, so I became a modern day Don Quixote fighting for the rights of those with a disability. Many, many times , I would don the armour of righteousness, mount my trusty grey horse Eeeha! (work with me here), raise my lance, and charge into hell for my heavenly cause, dreaming of a world where discrimination no longer existed.
But at other times, I would retreat, exhausted and just want to be invisible.
For many years as I championed this cause, I faced this problem: "Do I want to fit in, or do I want to stand up, stand out and stand fast for who and what I am; do I want to be same or different?
I became consumed by this dilemma and desperate for an answer. I turned to books, coaches, meditation, you name it – I did it, I even searched in the bottom of a few bottles of scotch – I eventually found my answer where many of our life's most important questions are answered.
My Grandmother's kitchen was filled with the aroma of freshly cooked bread, and the quiet rhythmic chopping of vegetables was the only sound to be heard. On the bench, gleaming upturned jars were begging to be filled with her world famous tomato relish – well I thought it was world famous – my grandfather, Poppy, always said it could be used as paint stripper. I too would laugh at his mischief. Nana, in all her wisdom and with all her love, would merely smile.
A splash was followed by her silent invitation to look in the water filled sink. A wildly bright red apple had accidentally tumbled in, and was bobbing amongst a dozen green tomatoes. Nana said, "Mark, look in the sink. What do you want to be?" I looked at my choice – to be the one apple or one of many tomatoes- and I remembered thinking…
Who looks at fruit and veges and becomes philosophical?
So how did I answer grandmother?
As I watched her, I finally understood her wisdom. "Nana", I said. She stopped, turned, and waited. "Nana, I want to be the water.
She turned back to her work, and I am sure I heard her smile.
She knew I had found my answer. That you can't change the world by charging around like an idealistic knight. You change it from here, by being the water. You see water embraces everything completely. It does not differentiate young from old, black from white, tall from navel gazer. It simply encompasses all.
And what is this water if is not a unique definition of love. A definition reflected in Deepak Chopra's work, where he writes 'for love to be real it has to flow out and around that which is loved'. This water is liquid love. When I am the water, no, when we are the water, the need to fight the good fight no longer exists. The need to work out whether we are the same or different no longer exists. When we love with the intimacy of water, difference doesn't exist.
It's what this liquid love does. What happened in that kitchen allowed me to replace the passion of youth with the wisdom of my grandmother and so with my new understanding I began to change my world from in here
Ladies and Gentlemen: In an ordinary kitchen, I learnt an extra-ordinary lesson. One which enabled me to take off my armor and get off this horse – not literally. I learnt from my grandmother that it doesn't matter how we are different. It's how we love that matters. So this morning, I offer you her wisdom. In a sink full of green tomatoes and one wildly red apple, there is so much, so very much to be gained from being the water.
Other posts that are interesting: