Recently I came across this on the web. This technology has been here for quite a while, but only a few would have seen this. I am amazed at how people could think like this! Just brilliant. Creative advertising has gone wild. Gone are the days when advertisers controlled what they wanted consumers to see. Now consumers can interact and learn with these types of technology.
Here, the print ad uses a technology created by metaio called augmented reality in which digital content, such as 3D animations or movies, can be viewed in the real world in real-time. The ad campaign was created by Munich, Germany agencies Buzzin Monkey and die agentour GmbH.
Here's how the technology is activated. Consumers remove the print ad from a magazine, type in a URL online, then hold the ad in front of their Web cam.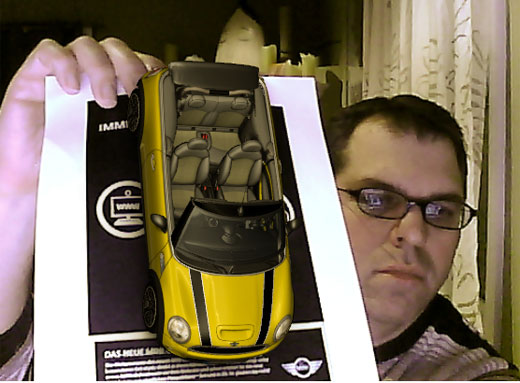 What happens next is really amazing. The MINI convertible will appear in 3D on top of the Web page, making it appear that it's sitting atop of the ad the user is holding. When the user moves the print ad, the 3D MINI moves too, in real-time. Viewers can get a bird's-eye view of the front, back and interior of the car.
Now for the bad news. This only works on a PC; users need to install a 3D-plugin and activate their Web cam to experience augmented reality. In short, we're a ways away from instant gratification. However, metaio is working on an upgraded version of the technology that will run completely on Flash and cut out installation steps currently needed.
Augmented Reality technology, according to metaio, has existed on an academic level since 1990, but remains in early adoption mode for commercial use, having first been used in late 2006.
Book publishers, toy companies and car manufacturers have been quick to embrace the technology. While it's too early to determine how many people will interact with the ad, it's never to early for guesstimates.
I still havent tried the ad yet, but its quite easy. All you need is a copy of the ad, a webcam, and a web browser (sorry, Internet Explorer/ActiveX only) to view the 3-D AR effect. It won't hurt if you can read German too.
Please do give it a try and post your comments .
Other posts that are interesting: