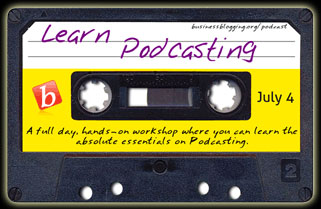 The Workshop
This one-day workshop on Podcasting provides hands on experience in Podcasting. The participants will learn about Podcasting, its advantages, How to record, edit, and export audio files using software. The workshop is highly interactive, designed on un conference format. Workshop includes individual / group exercises and demonstrations, providing participants with hands-on activities to learn basic digital media authoring techniques.
The Coach
This workshop will be conducted by Kiruba Shankar. He is CEO of Business Blogging and Director of F5ive Technologies. He has published books on Crowdsourcing, Wikipedia and Unconferences. He is on the Governing Board of RangDe, a microfinance initiative from ICICI Foundation.In his earlier job, he was Associate Director at Sulekha.com.
Who should attend?
Marketing & Business Development Managers , media professionals, Visual communication, Journalists, Advertising & PR professionals, Radio Video Jockeys, Academicians, Corporate trainers, Lecturers, Bloggers.
What is Podcast?
A podcast is a series of digital media files (either audio or video) that are released episodically and downloaded through web syndication. Podcasts are published as RSS or Really Simple Syndication feeds, using XML file format technology to deliver MP3s to computers or portable music players. Podcasts are most often listened to on an MP3 player, but they can also be heard on a computer using media player software.
Podcasts can be automatically delivered directly to your personal computer, and can be transferred to your iPod or other MP3 player. They are often conversations, and include co-hosts and discussions or interviews. They are different in that most people will listen to a show from start to finish and are popular for many reasons, not the least of which is the fact that they're free.
Wikis, blogs and Podcasts are all relatively easy to use, which partially accounts for their popularity. Simply put, Podcasts are free downloadable audio in the form of a digital media file that you can subscribe to, via syndication feeds over the internet.
Course outline
Introduction to Podcasting
Types of Podcasting
Dos and Don'ts in Podcasting
Advantages of Podcasting
Case studies
What tools are available to you for podcast creation?
How to structure and script your podcast
How to record quality Audio / Video in-studio or on location
How to capture screen recordings and presentations
How to import, edit, and enhance your digital audio/video recording
How to export your podcast for distribution via podcasting
Marketing of your Podcasting
Negatives of Podcasting
Venue & Date
Liberty Park hotel,
9, 1st Main Road,
United India Colony,
Kodambakkam,
Chennai – 600 024
Date : 4 July 2010
For more details and for registering please go to http://www.businessblogging.org/podcast/
Limited seats (Only 30)! So Hurry!
Other posts that are interesting: