Chennai has got a lot of coverage and support from all over, Cuddalore is not Chennai. We need to ensure we help them too. Please do help. Every contribution makes a difference! There are still places in Cuddalore that needs a lot of help. Help support the people through your kindness. Let us make sure we help the people when they really need it.
Back from Cuddalore. Learnings.  – Actor_Sidharth
1.Send bedding and blankets, Mosquito coil, .
2.Send smaller trucks that can go on kuchha roads.
3.Identify groups that are addressing the hard to reach hamlets.
4.Prioritize small villages away from main road.
5.Do not use relief labels or banners on trucks. They be will be attacked.
6.Find local teams that have police support.
7.Do not send provisions unless you know where they will be cooked and served.
8.Cuddalore needs help. It doesn't need panic. Doesn't need stockpiling of unnecessary items or over supplying some places.
9.We went to 15 villages. Many of these were described as drowning, starving, unserviced on social media. NOT TRUE.
10.Do not comment on cuddalore from outside. There are places that are struggling. Do not confuse relief work. Be concerned. Not dramatic.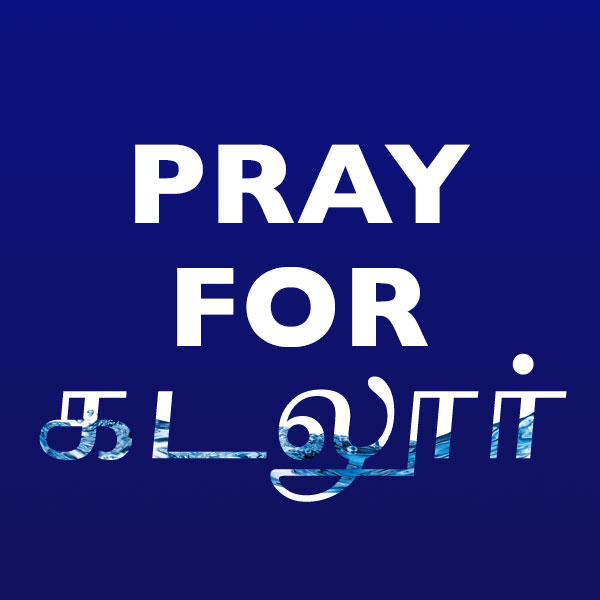 அதிகம் பகிரவும்
கடலூர் மாவட்டத்தின் பரிதாப நிலை…
உதவி செய்ய வருவோர் கவனத்திற்கு சில ஆலோசனைகள்…
*************************************************************
மூன்று நாளாய் உணவுக்கு கூட வழியில்லாமல் ஏதேனும் லாரி சென்றாலே உணவு தான் என்றெண்ணி அதில் அதில் சண்டைபோட்டுக்கொண்டு அடித்து சாப்பிடும் அவலம்.
குவியும் ஓரளவு உதவிகளும் சரியான வழிகாட்டுதல் இல்லாததால் தேவையுடையவர்களை சென்றடைவதில் சிக்கல்.
இங்க இத்தன பேருக்கு சாப்பாடு வேண்டும் அங்க அத்தன பேருக்கு போர்வை வேண்டும் என்று முகநூளிலோ வாட்ஸ்அப்பிலோ பதிவிட தெரியாத மக்கள்,.
சமூக விரோதிகளின் (அவனுங்கள் வேற என்னன்னு சொல்றது) தொல்லைகள்.
பரிதாப நிலையில் 30க்கும் மேற்பட்ட கிராமங்கள்.
உதவ களம் சென்ற நம் mypno குழு தரும் ஆலோசனைகள்.
கடலூர் மாவட்டத்திற்காக பரங்கிப்பேட்டையிலிருந்து…..
ஹினாமுள் தொடர்பு எண்: 9092137718
ஹேம்நாத் : 9488084484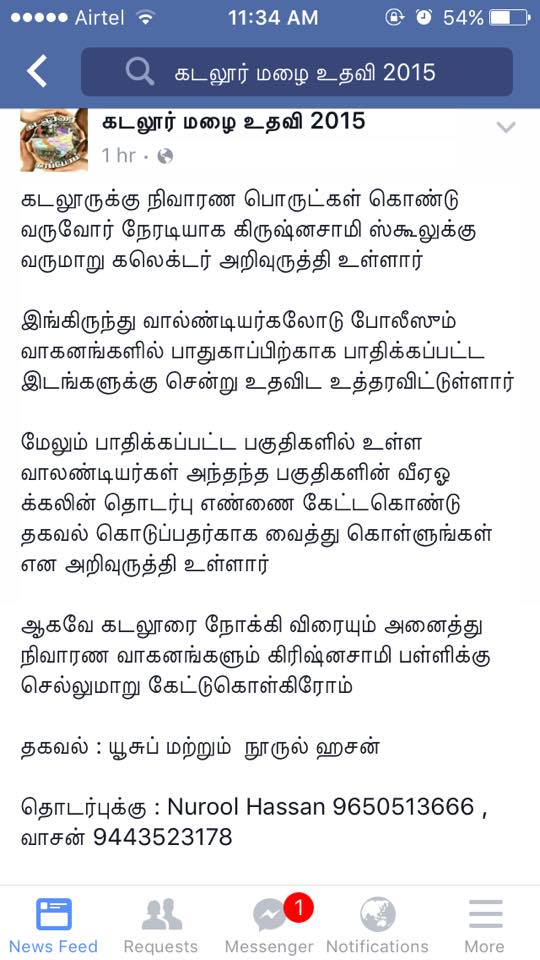 Friends 4 truck is ready in CUDDALORE for distribution along with volunteers.. volunteers in CUDDALORE pls update the areas where the more resource is needed .. so that team will reach the place.. And also team has cook along with them now nearly 15000 food packets are ready and started cooking too extra pls contact my brother Gowtham Narayanan @ 9159570735 #cuddalore #cuddalorefloodrelief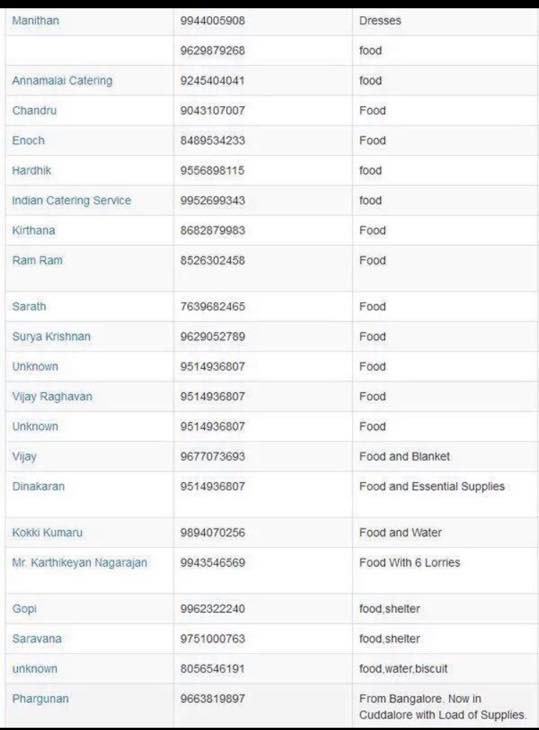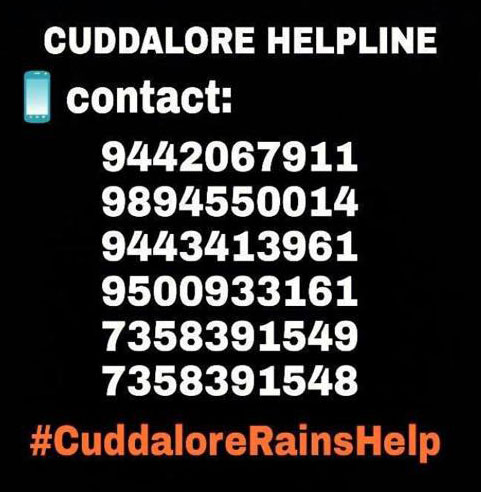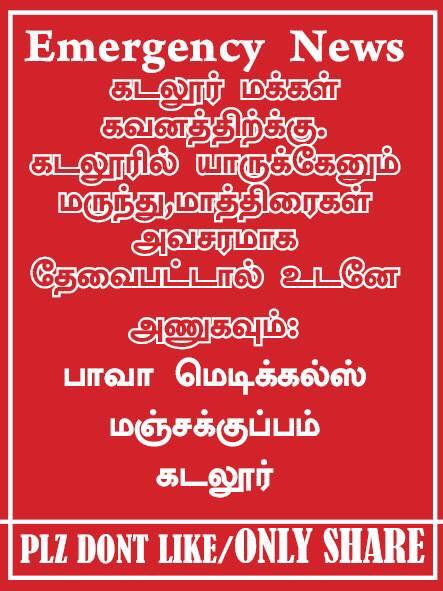 Food/Supplies
| | | |
| --- | --- | --- |
| Vijay | 9677073693 | Food & Blankets |
| Sarath | 7639682465 | Food |
| Kirthana Gangatharan | 8682879983 | Food |
| Vijay Raghavan | 9514936807 | Food |
| Mohan | 8883322133 | clothes coming from Tirupur |
| Gokul Venkatesh | 9442510202 | doctorsFood and blankets |
Doctors
Dr. Sathya Narayana
9790010594
Dr.Dhivya
8760632693
isha yoga centre
8300052000
8300051000
| | | |
| --- | --- | --- |
| Dr.Navaneethan selvan | 8608210905 | Medical supplies |
Volunteers
| | | |
| --- | --- | --- |
| Gopinath | Local volunteer | 9962322240 |
| Pratheep | Local volunteer | 9790570263 |
| Sakthi Saravanan | Local volunteer | 9751000763 |
| Abilash | Local volunteer | 9994423012 |
| Anand | Local volunteer | 8220114888 |
| Shanmuga Rajan | Local volunteer | 9443651394 |
| Sudhakar | Local volunteer | 9894976618 |
| Arjun Subburaj | Local volunteer | 7358483512 |
| Cecil | Local volunteer | 7373277719 |
| Raviraj Kannan | from Madurai | 9791287987 |
| Ashwin | from Madurai | 9751815131 |
| Abdul | from Madurai | 9003666653 |
| Jn Kishore | from Madurai | 8056617660 |
| Goraniya Maher | from Madurai | 9994233939 |
| Sanjay Bhat | From Sastra Tiruchy | 9487531232 |
| Sugheerth Sreedharan | From Sastra Tiruchy | 9566256440 |
| A.K.Moosa | Local volunteer | 9443413961 |
| The Cuddalore School Of Banking | Local volunteer | 9751000763 |
| Pandiyarajan | From dindugal | 9842171616 |
| Kennady Leo | From dindugal | 9500133393 |
| Jasim | From tiruchy | 9789277212 |
| Praveen Raj | From tiruchy | 8939661119 |
| Santhosh | From tiruchy | 8940422992 |
| jasem | From tiruchy | 9789277212 |
| mari muthu | | 9488804466 |
Other posts that are interesting: