DTAC 2016 will be held at the Zayed Convention Center in Abu Dhabi. What is DTAC? DTAC is also known as the District Toastmasters Annual Conference, this is an annual contest of Toastmasters from around the district. DTAC 2016 is the annual conference of District 20. District 20 consists of the following seven countries U.A.E, Oman, Qatar, Bahrain, Kuwait, Jordan and Lebanon.
The District 20 Director is Sujit Sukumaran whose motto "Educate to Elevate.. Elevate and Empower!", inspires the whole Toastmasters fraternity of the district. According to him the ultimate aim is to create super communicators and leaders of the future. He has been an inspiration to so many Toastmasters and wherever he goes touches hearts.
The winner of the International Speech contest from District 20 will take part in the 2016 International Convention on August 17-20,at the Marriott Marquis Washington, D.C., where all the champions from the districts will compete for the title of World Champion of Public Speaking. This year also there will be closely contested speeches. So who will be the 2016 World Champion of Public Speaking? Ay guesses? They could be from your Toastmasters Club! Last year the 2015 World Champion of Public Speaking was Mohammed Qahtani from District 79, Saudi Arabia for his speech, "The Power of Words.". He stole everyone heart with his amazing speech. Below is the winning speech of the 2015 International Convention of Mohammed Qahtani.
The DTAC 2016 event details
DATE: 24th – 26th May, 2016
VENUE: Zayed Convention Center, Abu Dhabi., UAE
CONTEST:
The event will showcase contests in English and Arabic as well as for Gavalliers (Toastmasters between the ages of 11-18). There are four primary categories of competition: Humorous, Table Topics, International and Evaluations. The winners of each category will be crowned as District Champions. The winner of the International Speech Contest will represent District 20 at the Toastmasters International Convention in the USA.
WHO CAN ATTEND: Toastmasters / Gavalliers as well as Non-Toastmasters are welcome.
HIGHLIGHTS OF THE EVENT:
– Key Note Address
– Education Sessions
– Excellent cuisine
– Gala Dinner
– Entertainment
– Networking
DTAC 2016 Registration
DTAC 2016 registration for the event will start shortly. The early bird online registrations will be announced soon.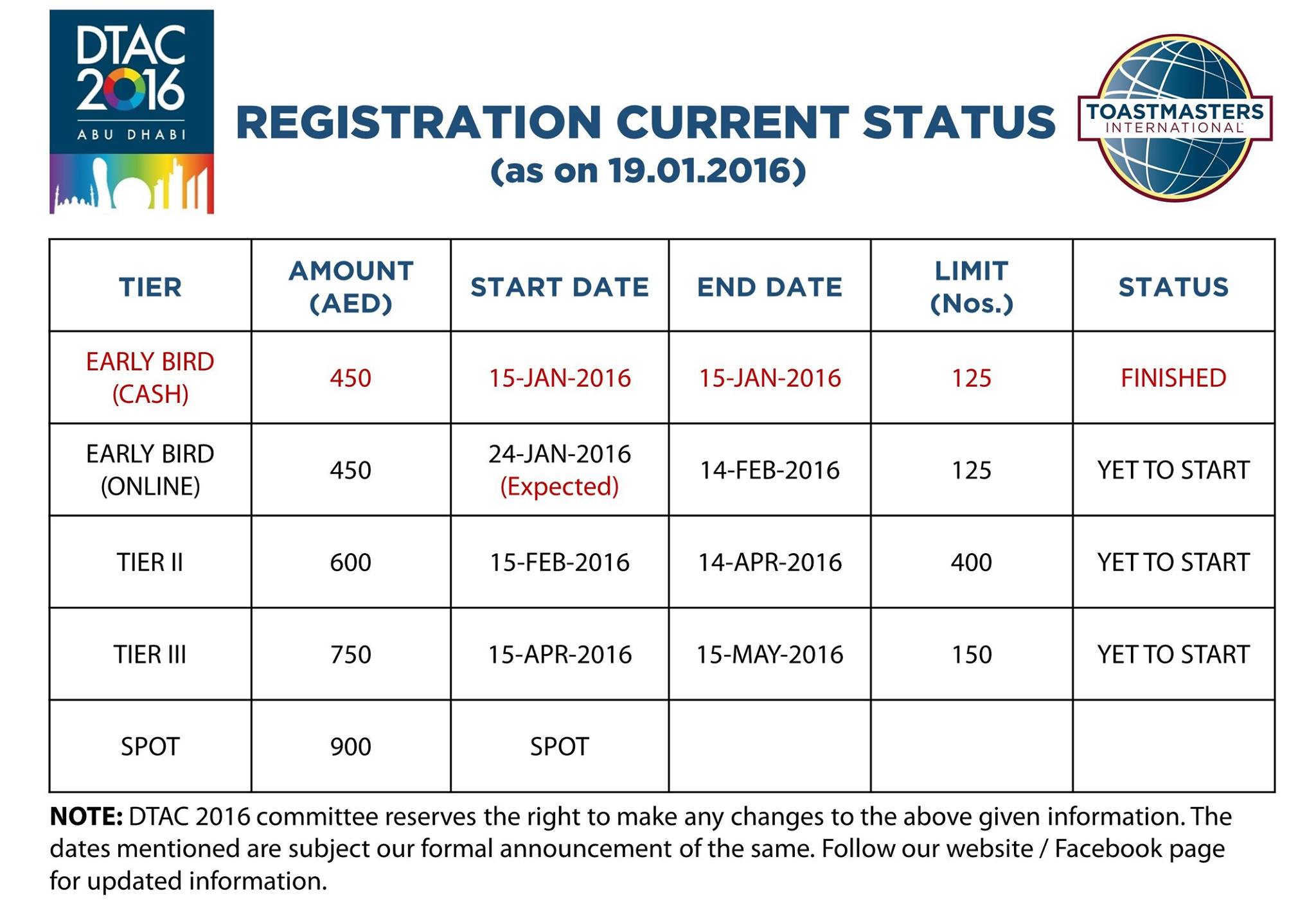 For more on Toastmasters, visit LagoonToastmasters.com
Other posts that are interesting: