It was a wonderful 3 days of exhilarating contests and keynote speeches. With more than 700 registrations for this event, it was one of the most exciting DTAC conferences ever in the GCC. It was indeed a "Journey towards Excellence".
This would not have been possible without these people – Nasef Dhafari, DTAC Chairman and his team and Radhakrishnan Karantharath (RK), the District Governor and his team.
Day 1 was held in India Social Center. It was the day of qualifying for the finals of the Humorous, Table Topic and the International speech contests. Our club the Lagoon Toastmasters was participating in the Humorous (TM Mathew Jacob) and the International (TM Loy Machedo) speech contests. The did an amazing job and qualified. A lot of speakers were very good. One of my favourites apart from Loy and Mathew was TM Sujith Sukumaran in Table Topics. I will post videos if I get them. Some of the brilliant ones were V P Menon, Mohammed Al Essa, Mohamed Abdulla Isa and Tariq Al Qahtani in Humorous. Sridhar Sampath, Jiju Varghese, Koka Prasad, Mohammed Al Essa, Reginaldo Maga Jr, Jamsheed Hamza and Asif Daudi in International. Rajendra Varma. Sujit Sukumaran, Abraham Thomas and Hemalata Thawani in Tabe Topics.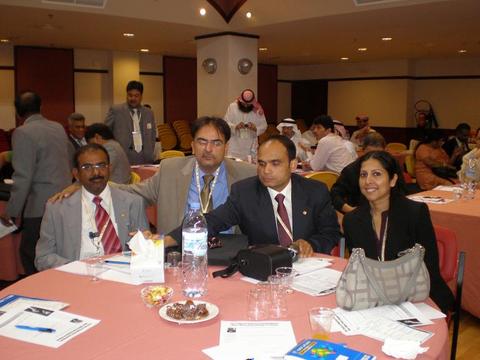 Day 2 was held in the Intercontinental Hotel. The Finals of the Humorous and the Table Topics contests.Keynote speeches by two World Champions of Public Speaking, Ed Tate and Darren LaCroix was very educative and a great learning experience. The contests were held and everyone gave their best performances. The District Council Meeting was also held and it was an eye opener for me. So many enthusiastic Toastmasters wanting to take up Leadership roles to lead their Division and District. A real election process with lots of joy and disappointments. But as it is in Toastmasters, we take it in the right spirit and all support given to the winners! True Toastmasters Spirit.
Day 3 same hotel. The Finals of the International contest. The release of the District 79 Magazine. The Awards ceremony. After the keynote address by Ed Tate, which btw way was on 'how to make stories in minutes' and was brilliant, was the International Speech Contest. This is one of the main events because the winner here represents this region Internationally in August in the USA. Whoever wins becomes the World Champion of Public Speaking! The speakers were Sridhar Sampath, Jiju Varghese, Koka Prasad, Mohammed Essa, Loy Machedo and Asif Daudi.
Every speaker put up his best show and emotions were high. The crowds escatic. The fans eager. Everybody on their toes as each contestant spoke, the audience hung on to every word, every action, every emotion, every pause. So intense so beautiful.
We came back to our senses only after the contest was over!
Please read the second part – Click here.
Other posts that are interesting: