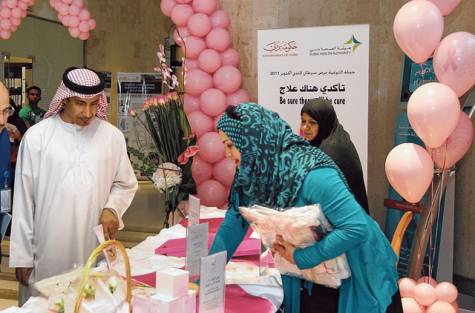 Breast cancer is spreading fast and many women are suffering due to this. Many of us citizens are still not aware of the symptoms and ignore the signals. People are either scared or skeptical about this issue. I have known many women who have survived and are doing fine, by the grace of Allah, just because they detected it early and took actions. Everyone should make their mothers, sisters, relatives & friends aware of breast cancer and get a mammogram done. For a few weeks, the MOE will be giving out FREE mammograms. Please spread this awareness campaign and tell everyone you come across. It is an excellent move by the MOE, so please make use of this opportunity. Breast cancer can be eliminated if detected early. Life is precious. Help people by just spreading this message. Who knows, you may help save many lives.
Please RT. #FREEMammograms by @iranianhosp #Dubai till 29th Oct. #BeatCancer @dubizzle @gulf_news @khaleejtimes https://t.co/gzqgseIdPm

— Abdul Ravoof (@ravoof) October 26, 2015
Below are the details from Gulf News.
The Ministry of Health is offering free medical check-up as part of its campaign to raise awareness that lives can be saved if breast cancer is detected at its early stages.
Thousands of medical professionals have been deployed across the country since yesterday to promote the message that recovery from breast cancer is very high if detected in the early stages.
Breast screening centres are set up in all emirates and a brochure reminds women: "Remember, it is free, no hassle, no health card needed."
Dr Mahmoud Fikri, Assistant Undersecretary of Health Policies Affairs at the Ministry of Health, said a mammogram is only needed for women over 40 years. He said smoking, inactivity, obesity, diabetes are all risk factors for this non-communicable disease.
The awareness campaigns start across the UAE today and will spread for weeks at schools, malls and offices.
Extended campaign
Fikri said that instead of just spending a day to mark Breast Cancer Awareness Day, the ministry spread the campaign over four weeks.
Primary health care centres will be decked in pink to mark the month and school children will be made aware of this disease.
This year's events are given special importance due to the fact that breast cancer is one of the most common disease and has an adverse impact on women's lives, Al Fikri said. But there is good news he said. While it is the main causes of death among women in the UAE, studies show that early screening and early treatment are successful in halting the disease 95 per cent of the time.
Some of the public places in Dubai taking part in the awareness campaign are: Mirdiff City Centre, Mall of the Emirates, Dubai Mall and Al Ittihad Union Cooperative. A similar event will also be held at Ajman City Centre while students will participate in a walkathon in Umm Al Quwain. "We are making sure that women have easy access to knowledge," Al Fikri said.
A book in Braille has also been published to help educate those who are visually impaired. Several hospitals are offering a half-price discount for mammograms during the month.
INFORMATION
Ministry of Health Breast Screening Centres:
Abu Dhabi: (02) 4473496
Dubai: (04) 2721670
Sharjah: (06) 5245477
Ajman: (07) 2337333
Fujairah: (09) 2224811
Other posts that are interesting: