1 in 8 Women will develop breast cancer over the course of her lifetime, studies warn. Breast Self Examination helps you detect it early with a survival rate of up to 98%. So check yourself and be safe.
It is of upmost importance for women to be aware of their health and with breast cancer on the rise it is important to be aware and begin check regularly. There is more awareness these days and this helps women come out and get checked without being afraid.
Even though there is awareness in big cities, the message should spread to remote areas and to women who do not have access to the latest media coverage.
Awareness of Breast Cancer in Dubai has increased a lot in Dubai and over the years it has seen more hospitals participating in awareness campaigns. Seeing the need to provide better health to all, a lot of institutions has provided FREE screenings and also FREE Mammograms in Dubai.
Iranian Hospital in Dubai is offering FREE SCREENING and FREE MAMMOGRAMS from October 25 to October 29, 2015. Visit their Global Health Care Section from 8 am – 12 pm & 5 pm – 8 pm.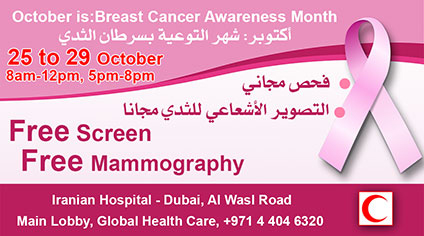 The objective of breast screening is to detect breast cancer early and women who have their breast cancers detected during breast screening have a higher chance of surviving breast cancer also a better chance of being able to preserve the breast.
Across the Middle East there needs to be on-going, sustainable breast cancer awareness programmes – awareness should not be limited to one month during the year. What is currently on offer is very basic awareness – simply stating 'early detection is the best protection' is only a very small part of awareness. People need to know more about the disease, diagnosis, treatments, etc., so that:
– myths and fear about the disease can be dispelled
– the subject can be raised more easily within communities
– more women will be able to make better informed decisions about their health and treatment plans
There are still large numbers of women receiving the wrong investigations, surgery and treatments simply because they are not being offered the right type of awareness and information. Many are still being offered and are having very expensive and invasive operations in order to make a breast cancer diagnosis – these operations are sometimes quite unnecessary in order to make an actual diagnosis, and what is actually needed is many of these situations is a non-invasive and relatively inexpensive investigation. How many women are being subjected to operations that they don't really need all because they are not being made totally aware.
Breast cancer awareness needs to be promoted across the Middle East to improve treatment and care of the disease. Awareness needs to be more than making people aware of awareness events – information has to be available at these events which currently isn't happening.
There are breast cancer awareness programmes in the region, but only a few provide information that would reach international standards, the others fall short and fail to provide any real in depth information and awareness about the disease. This lack of breast cancer awareness has negative consequences not only for the women diagnosed with breast cancer, but for all women.
The only way to redress this problem is by providing breast cancer information and awareness which is medically produced, current, correct and meets international standards with the aim of improving detection, treatment and care of breast cancer. Also by working with and collaborating with breast cancer awareness programmes in the Region that are committed to these objectives, and who use donations they receive to achieve these objectives and not on their huge overheads for ineffective management and administration and other running costs.
Other posts that are interesting: