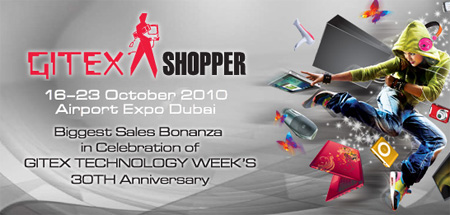 When was the last time you visited Gitex? Well here is an opportunity once again to visit and enjoy the fabolous latest technology, innovations and moreover SHOPPING! Gitex is one of the world's most dynamic and influential ICT exhibitions, the platform for international professionals to do business across the Middle East, African, Indian and South Asian markets. Planning to buy the latest phone? laptop? digital camera? Voila! This is your chance to get it at excellent discounted prices or with lovely bundle offers. Who knows maybe you can also win lucky draws which run throughout the whole week. Gitex Dubai is one of the best places to be for electronic geeks out there. Come, plan & enjoy Gitex Dubai!
Date, Venue & Tickets
Gitex Technology Week Dubai is from Sunday 17 October – Thursday 21 October 2010. It will be held in the Dubai International Convention and Exhibition Centre. Ticket cost will be AED 50 per day (online booking) and AED 60 per day (onsite)
Who can attend
Consumer Electronics (in Sheikh Saeed halls) will feature three public open days to preview the hottest technology and gadgets before they're released in the stores. The rest of the show is trade only, and proof of trade status is required for entry. No children under the age of 18 are permitted entry. Student groups are admitted on Wednesday 20 and Thursday 21 October only, must be arranged in advance and accompanied by a faculty member.
Gitex Shopper
Visit GITEX SHOPPER (16-23 October) to purchase the hottest technology and gadgets with the best deals in town! Located at Airport Expo, GITEX Shopper can be easily accessed direct from GITEX via metro, World Trade Centre to Rashidiya. www.gitexshopperdubai.com
Show Timing:
| | | | | |
| --- | --- | --- | --- | --- |
| Saturday | | 16 October 2010 | | 11am – 10pm |
| Sunday | | 17 October 2010 | | 11am – 10pm |
| Monday | | 18 October 2010 | | 11am – 10pm |
| Tuesday | | 19 October 2010 | | 11am – 10pm |
| Wednesday | | 20 October 2010 | | 11am – 10pm |
| Thursday (Extended by 1 hour this year) | | 21 October 2010 | | 11am – 11pm |
| Friday (Extended by 1 hour this year) | | 22 October 2010 | | 3pm  – 11pm |
| Saturday (Extended by 1 hour this year) | | 23 October 2010 | | 11am – 11pm |
AED 25 per person, per entry for Gitex Shopper
Location for Gitex Shopper, Dubai – http://www.gitexshopperdubai.com/files/venuemap.pdf
How to get there
The World Trade Centre metro station is now open allowing direct access to our venue from prominent locations around Dubai. The station (number 22) is on the Red Line within Zone 5.
Trains run every 7 minutes to all major business, tourist and residential areas, and with options such as Park and Ride, or feeder buses which connect your neighbourhood to the metro, there is all the reason to utilise this efficient and cost effective mode of transport. Using the metro not only saves you time and reduces traffic on the roads, but also lowers our carbon footprint which helps us work towards a greener environment.
Metro guide: http://www.rta.ae/dubai_metro/english/home.html
Other posts that are interesting: