At least 159 passengers are feared dead when an Air India Express Boeing 737-800 flight from Dubai overshot a runway at the Mangalore airport, and burst into flames as it crashed into a wooded valley on Sunday at 6.10. a.m.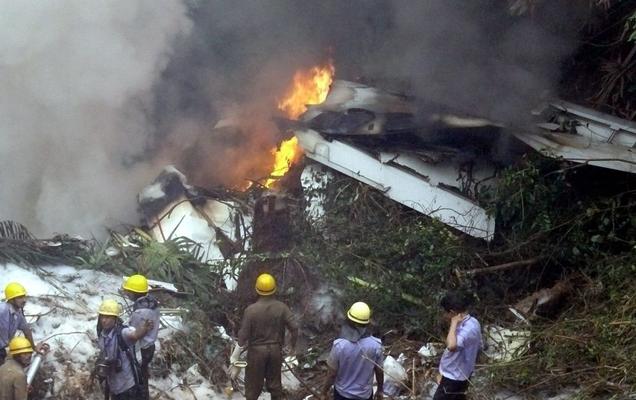 The bodies of those who died in the crash are being taken to Government Wenlock Hospital, Hampankatta, Mangalore. A Help Desk has been set up at the airport, which can be reached at (0091) 0824 2220422 and 0824 2010167. Fire tenders have reached the area which is in terrain that is relatively inaccessible.
There are at least six survivors, official sources told The Hindu.
The survivors include: Joel Prathap D'Souza, (described as a "young man around 25-30 years old"), Mohammad Umer Farooqi (26), Sabrina Haq, a medical intern from at the Kasturba Medical College, Mangalore. Three other survivors, Mayan Kutty, from Kasargod, G. K. Pradeep, from Tannirbhavi, Mangalore, and K. Krishnan, have been admitted to the SCS Hospital, Mangalore.
Bank employee, child feared dead
Narayan Rao (48), an employee of the Karnataka Bank, Bejai branch, a child Hiba Zeena were identified as among the dead.
All flights to and from Mangalore have been cancelled until further notice.
The captain of the flight, F. Glusica, from Serbia, and his co-pilot H.S. Ahluwalia, are feared dead.
Mr. D'Souza came to the airport from the crash site in a vehicle and said he was a survivor of the crash. He was immediately moved to the hospital
According to M.R. Vasudeva, Airport Manager, Bajpe, the plane was carrying 166 passengers including 137 adults, 19 children and 4 infants. There were six crew members on board. Village residents have rescued six passengers. The airport has a table top runway.
There are three confirmed survivors of the crash in which most are feared dead, say airport officials.
Govind Belgaumkar reports from Mangalore airport:
"Anxious and frightened relatives and friends of the Air India Express flight from Dubai that overshot the runway and burst into flames throng the Mangalore airport for news of their loved ones. The airport authorities have pasted the passenger list on pillars in the airport.
The exact number of causalties is still not known, but the injured have been removed to four hospitals. These are S.C.S Hospital, Balmatta, Mangalore; KMC Hospital, Jyothi Cirlce, mangalore; Government Wenlock Hospital; and A.J. Hopsital".
Amongst those who have been waiting from 7 a.m. at the airport are Annette D'Mello and Preena Castellino whose relatives were on the flight. In tears, they told The Hindu that the names of Venisha Nicola Lobo (15), Vishal Floyd Lobo (8) and Flavia Shakuntala Lobo (39) were not on the first list of survivors that the airport authorities have issued. "We are not getting any information," Ms. D'Mello said. "The help desk has given us the names of the four hospitals, that is all."
From Anisha Sheth in A.J. Hospital, Mangalore
Mr. Farooqi from Ullalpet in Mangalore, who survived the crash, said: "I heard a loud noise and in a few seconds the cabin was full of fire and smoke. The plane disintegrated. I saw a burning hole and through it trees outside, and I managed to free myself and get to the opening. The opening itself was in flames, so I covered my face with my hands and jumped. I fell a few feet to the ground and saw it was a hilly area. I crawled away from the flames and some village residents took me on a two wheeler to the nearest junction. From there an auto brought me to the hospital." Mr. Farooqi had gone to Dubai in search of a job.
Source: The Hindu
Other posts that are interesting: