The Mental Health Action Trust (MHAT) is a Not-for-Profit organisation that aims to contribute to improved mental health care in India by integrating Psychiatry with Medicine. MHAT aims to deliver sustainable and integrated psychosocial care through medical networks involving volunteers in the community.
I came to know about them through a friend, Praveen, who is a mind reading specialist (http://praveenmentalist.com/). He is doing a Mind Reading show for them to raise funds for the mentally challenged people back in India. He wanted me to design a flyer for them (see below).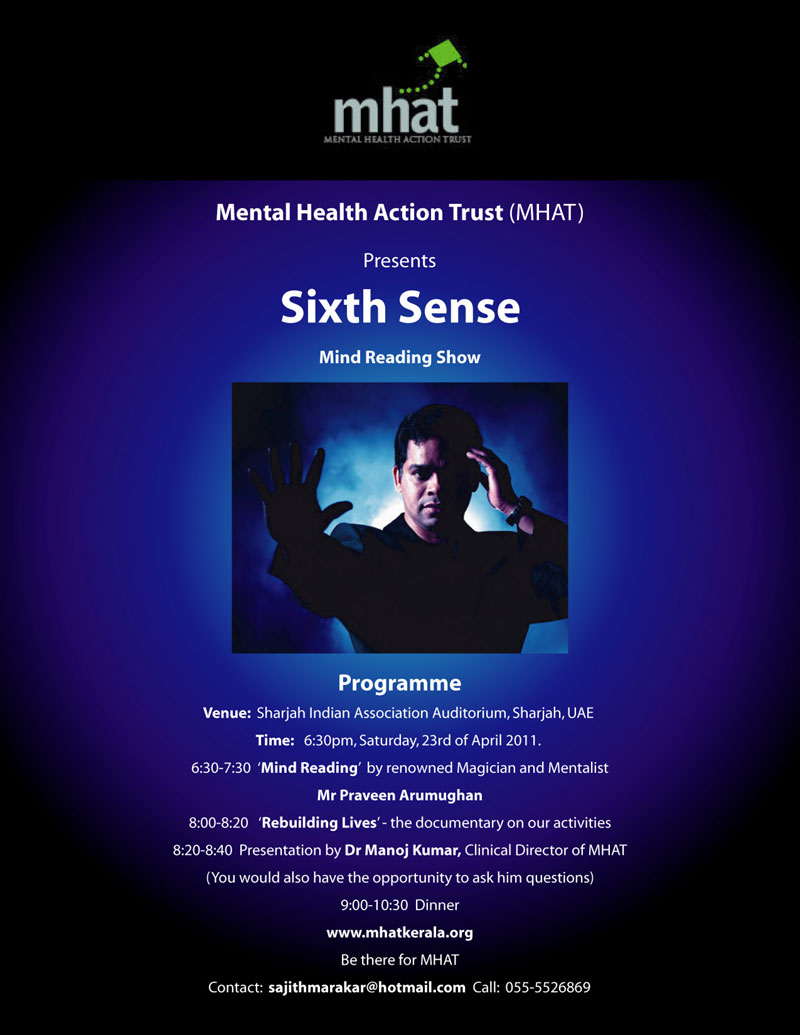 About the program
MHAT has announced a series of fund-raising events in the United Arab Emirates and the State of Qatar in April.
There will be two events in the UAE titled the 'Magic and Mind'. These will be presented by Mr Praveen Arumughan, the famous Dubai based Mentalist and Magician. There will also be the premieres of a documentary on MHAT and a presentation by Dr Manoj Kumar.
These will be on the:
22nd of April 2011 at the Kerala Social Centre, Abu Dhabi, UAE at 6.30 pm.
23rd of April 2011 at the Sharjah Indian School Auditorium, Sharjah, UAE at 6.30 pm.
In Qatar the fund-raising event will be on the 27th of April at 7.00 pm at the Indian Cultural Centre, Doha. H E Mrs Deepa Gopalan Wadhwa, Ambassador of India to Qatar will grace the occasion with her presence.
Please do come with all friends in the UAE and Qatar to these events.
About Mental Health Action Trust – MHAT
MHAT is a registered Charitable Trust based at the Institute of Palliative Medicine in Calicut, Kerala.
Their aim is to provide free community based mental health care to economically backward people and to support all activities connected with this.
Their work helps hundreds of poor families with mentally ill members to rebuild lives.
For the last 2 years, a successful community psychiatry project has been functioning under the clinical leadership of Dr Manoj Kumar in the districts of Malappuram and Wayanad in Kerala. From the 1st of January 2011, this project, which was being run under the aegis of the Mehac Foundation, has been taken over by the Mental Health Action Trust.
Supporting MHAT
If you can relate to what MHAT stands for and if you are keen to support the activities of MHAT, please contact them:
General enquiries: mhatkerala@gmail.com
Dr Manoj Kumar: mk010908@gmail.com; +91 9745111005
If you would like to support us financially, please use the Standing Instructions below to set up regular donations or use the same bank account details for one-off donations. Please make cheques payable to: 'Mental Health Action Trust'.
Click here to download standing instruction
Let us all take an initiative and support this noble cause. If you are in the UAE or Qatar, please go to the programs and donate. Lets help change lives.
MHAT website – http://mehacindia.org/
Dr. Manoj Kumar on Facebook – https://www.facebook.com/profile.php?id=1454374446
Other posts that are interesting: