With so many gadgets around and many more still in the making, it is really refreshing to see a product that is Made in India!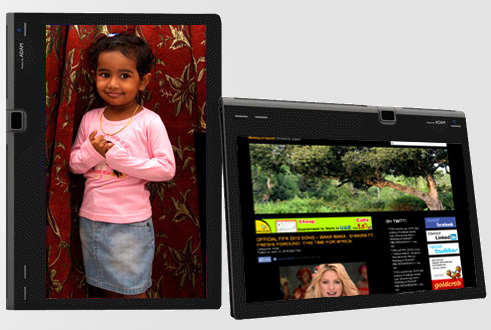 Seeing all the demos and videos of the Tablet, it sure seems promising.
It has a very stylish design with a 10 inch transflective LCD, 180 degree Swivel Camera that is really neat. The display is another innovate feature. A full color :LCD transmissive mode; a low-power, sunlight-readable, reflective e-paper mode; and a transflective mode, which makes the LCD display visible in sunlight, all in One! Proprietary Algorithms for automatic brightness control. Now you can read under direct sunlight too! There will indeed be two versions of the Adam – one which will be 12.9 mm thick and boast the Pixel Qi 3Qi e-paper screen, and another, thinner, non-Pixel Qi screen. The thinner, lighter version will measure in at 11.6 mm thick.
One function we all would love to have more of is the battery life. For such a big screen, it promises over 140 hours audio and over 16 hours of HD video playback! Really good.
It will be using the improved Android UI which is excellent for the big screen. Its Open, and developers are waiting for Android + Tegra powered SDK! Let there be more development.
It comes with a Dual-Core ARM® CORTEX -A9 MPCORE™ Processor. With this we can expect uncompromised Web experience, including low power Flash 10.1 acceleration , HD video playback etc. It also uses the Ultra Low Power NVidia Graphics Processing Unit. So expect to see better video output and smoother graphics.
More importance is given to the content system. So better readability, more content based applications with all major ebook formats supported. And with amazing proprietary light sensing technology and display, digital reading was never so pleasing!
Where others were lacking the ADAM has 3G and WiFi Connectivity, Multi-touch Support. It comes with 3 USB ports, 1 HDMI port. It also features a tracking pad at the BACK of the tablet! One new feature which we would eventually get used to.
There would be better pricing for ADAM according to Notion Ink the developers from Hyderabad, India. The LCD version would be cheaper than the Pixel Qi screen.
We all are eagerly awaiting the release of ADAM which was expected this month. Though delays, we expect a sound product from the sub continent. Hat's off to the young founders Rohan Shravan and Rohit Rathi and the entire team.
For more information visit Notion Ink website – http://www.notionink.in/
I'm proud that its Made in India!
Other posts that are interesting: