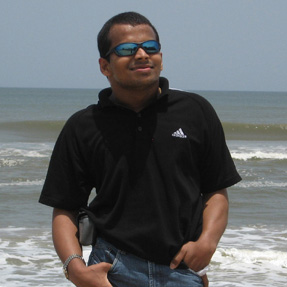 For how long have we not done something because we are scared, confused and don't have the desire. How many of us have dreams that are just shelved away, just because we think we can't do it? Here is an amazing guy who despite his disability, was able to reach heights many are unable to. A visit to the TEDxChennai website led me to his speech on his struggle in life. Throughout the video, I just couldn't believe what I was watching. Here we are groaning and complaining about our lives and here is another who is trying to live life to the fullest! The way he infuses humour into his speech is brilliant. It takes a great man to laugh at his disability. In fact I feel it is not him that has the disability, but us. Let us embrace life and try to live it. Stop bitching, start living!
More about G J Siddharth – courtesy TEDx Chennai
Being a person with cerebral palsy, life was not easy for Siddharth. He had to encounter a number of hurdles and at last here he is, working for Indusind Bank Ltd as Associate Manager, Trade Ops. He cleared 10th standard from Boston Matriculation in 1997 with an average of 75% and went on to clear 12th standard with an average of 90% then Bachelor of Commerce from Vivekananda College (Madras University) in 2002 with an average of 74%.and Masters in Economics from Loyola College (Madras University) in 2004 with an average of 77%. Many leading news papers like The Hindu, Business Standard, Economic Times, rediff.com etc, wrote about Siddharth and the challenges he faced but help was not in sight as society could not come to terms with his capabilities. Getting calls from various institutions for jobs and being turned down by when he met them became an order of his life, till he cracked his way into Royal Bank of Scotland Group (Formerly Abn Amro)
A turn around moment for him was when he got a call from the Former President of India's office, wherein Dr.APJ Abdul Kalam expressed his desire to meet him and they finally met on 2 December 2005. Thereafter Dr.APJ Abdul Kalam went on to mention Siddharth's name in many of the occasions and forums including the World Disability day. Felicitations, awards and recognition poured in from all corners thereafter. He was invited by many organisation / colleges to provide inputs on motivation, communication etc. Siddharth has come a long way. He is Certified 'Documentary Credit Specialist' (CDCS) from Institute of Financial Services, UK in 2006 (Recertified in 2010) and became India's first CDCS with Cerebral Palsy. has Certificate in 'Know your customer and Anti-Money Laundering' from Indian Institute of Banking and Finance in 2008 and Certificate in 'Trade Finance' from Indian Institute of Banking and Finance in 2007.
Awards and Recognistions
A recipient of National award in 2008 by Ministry of Social Justice and Empowerment as "best employee with Cerebral palasy" given by the honorable Vice President of India on 3 Dec 2008. Elected into the Board of Trustee of Skill Share International in September 2008, a UK based NGO.
Received the outstanding student award for year 1998 – 99 from my school and NIIT award for academic proficiency in 1997. Was conferred "Lala Kailashpat Singhania Award" from National Society for Equal Opportunities for Handicapped, Mumbai in December 2007 for my achievements. Elected on the governing body of Vidya Sagar in 2004 Received "Ascendas Excellence Awards' in academics in August 2009
Received Ncpedp – Shell – Helen Keller awards in December 2009 for being a positive role model.
G J Siddharth, TEDxChennai from TEDxChennai on Vimeo.
Other posts that are interesting: