Whenever I read anything about Chennai's (Madras) past, I just can't think of how lucky I am to be from here! The fresh smell of filtered coffee, the yummy dosai vadai – idli, the beach, cinema etc., always turn me on and so it does to others too. So reading this article by Lakshmi Baliga for The Hindu gave me so much joy on knowing the history of some of Madras' famous food hangouts. Don't we just love Chennai!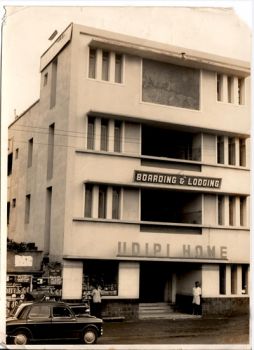 22nd August 1639. The British East India Company bought a piece of land and Fort St. George was built which became the epicentre of a growing colony – Madras now called Chennai. Since 2004, this day is being celebrated as Madras Day to focus on the city's past and present, emphasising on its varied culture, literature and cuisine.
Chennai has always been a predominantly vegetarian place. Pre-independence saw the emergence of many hotels/restaurants, some of which are popular even today. Rayar Cafe was the favourite haunt of many Mylaporeans and celebrities. The owner Padhu, as he was fondly known, lured customers to his humble place with his magical smile and aromas of Rava Dosai and Medhu Vadai. Today it is located on Arundale Street (off Kutchery road) and is looked after by his son. The place, though not as charming or as inviting as it was before, still has its regulars visiting who tell us that the Medhu Vadai and Dosai cannot be matched.
Triplicane is the home of the legendry Ratna Cafe. Sundays are incomplete for many locals without a sumptuous breakfast at this place.
Kaju Kathli, Jangiri and special Mysore Pak are the specialities of Ramakrishna Lunch Home(Broadway) for decades. Opened by the first mayor Ramanathan Iyer in 1943, this place, also known for their variety of mixtures, got a new look under a fresh management in 1977, and recently was re-christened as Ramakrishna Bhavan. A record number of boxes are packed with Kaju Kathli every Diwali and to know what makes it so special 'one has to come over and taste it' says the confident owner.
Madras Cafe was one of the most popular places known for their Mangalore Bonda, Rasam Vadai and coffee in the Madras Presidency. Post Independence saw it transform into Udipi Home and has been monitored by three generations of the Bhat Family. The youngest of them Ram Bhat says, "The success is because we made quick changes in ambience, cuisine and service to keep up with the times." The target audience here are not individuals but families and efforts are made "to please everyone from a coffee lover to a juice drinker."
"People are always looking for change," he says, "which requires upgrading and a relook at the menu at regular intervals." Mathsya, as it is known today, which earlier catered only to the South Indian palate, introduced authentic North Indian cuisine in the 70s. To please the next generation, continental food made an entry in the 90s. This restaurant is one of the most sought after vegetarian places in the city, and has a houseful crowd from 8am till 2am.
The doyen of the hotel industry in the south, Krishna Rao, started New Woodlands in 1937. Initially, this lodging place had only a small kitchen for the residents but realised they couldn't say 'no' to the beach walkers who dropped in for a cup of coffee. This triggered off the idea of a restaurant, and without much delay, Krishna Restaurant came into being. It is even today one of their most popular restaurants serving delicious idlies and dosas. Tanjore – the venue for authentic 'Yelai Sappadu' brings in guests from all over the world (Vatha Kozhumbu being the chart topper) and to make the choice wider, 'Vrindavan' was launched as their multi cuisine restaurant. "What makes me most happy is when the older customers tell me 'Adhe taste thambi' because we want to continue serving our customers and maintaining quality," says the very energetic Rajesh Rao.
After Independence, an Indian family was asked to return home from Sri Lanka. After adequate scouting they decided to setup shop in Madras on Mount Road. A military mess was taken over and Buharis was born. They served just mutton and chicken biryani for 8 annas and 1 rupee respectively. They also had an option of chicken/mutton masala with wheat or Ceylon parottas. "In 1958 Buharis introduced to Madras its first stand alone fine dining restaurant with uniformed waiters, plush crockery and cutlery," says Ahmed, a member of the family. This predominantly non-vegetarian restaurant is still known for the different types of chicken preparations. Chicken 65 which had many stories to its name was the creation of this eatery and is so called simply because it was first made in 1965. As the years went by Chicken 78, 82 and 90 also found themselves a place in their menu card.
This article on the Grand Old Eateries of Chennai would be incomplete if I did not mention two places which were there till yesterday. The prestigious Dasaprakash whose name would ring with every ice cream bell and the chilli cheese toast, ghee roast or Mango Melba at midnight. The second was a place which saw contracts being signed, deals being finalised, marriages being fixed, interviews being held, patch ups, break ups, first 'dum', innumerable Bread Peas Masala, Channa Batura, Dosas, Sweet Lime/Grape Juice making their way to the cars and… a place which every Chennaiite has a memory of – Drive Inn Woodlands.
Interesting Trivia
Mathsya had its restaurant open till after midnight since1960 for the convenience of the then train commuters who could arrive only after 11p.m because of the blackout in the city, during the China War. In the 70's the cinema-goers found this a boon and today, the midnight dining here is a culture.
In 1958 when Buharis started Madras' first standalone fine dining restaurant, the incentive to the customers was free ice water and an egg with every biryani.
Other posts that are interesting: