The past few days I was reminded that you don't have to be in India to experience power cuts. I wanted to blog 2 days back when it started, but then left it because I thought it wouldn't happen again. Today however, the power was out at 12 and came back only at 630pm! Damn, it was bad!
Had I enough of it? Not really. Thinking the electricity would never come back we left for 'shopping', which consisted of walking along long sparsely populated shopping malls! With so many "SALES" going on, it was really tempting, put being a guy who likes to disappoint himself, it was easy. The new mall in Mirdiff in Dubai is really huge. After 'shopping' and having dinner we were back home and happy to see our area having power.
I thought it was the best time to write about it and started. In between I had to go to Dubai to drop a friend. On the way to Dubai, most of the way, Sharjah areas were covered in darkness. Back in lightness once we entered Dubai. I thought that on my way back I will take a few pics of the darkness, hence the picture below.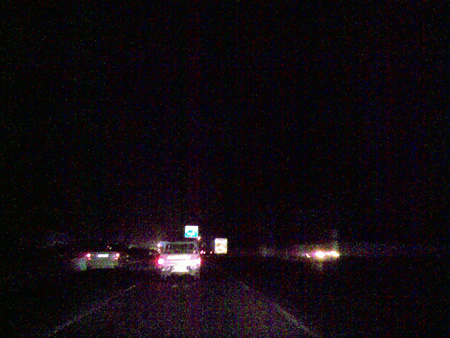 Never did I expect to return home to darkness AGAIN! This was madness. I couldn't finish my blog! By the time the power was back, my power was going down and dozed off! I decided to write as soon as I got up, but it got delayed.
Here is a n excerpt from Gulf News
Residents were appalled Saturday when they found themselves faced with a power outage yet again that lasted for nearly six hours straight.

The power outage affected many buildings in nearly all of the industrial areas, as well as some commercial areas including Al Maraijah, Al Nahda, Al Arouba Street, Bu Daniq area and the areas near Al Wahda Street.

Shops and supermarkets said that they lost a great deal of income in the last few days as a result of the power cut, and shopkeepers had no other choice but to write invoices and receipts by hand instead of using the cash register.

Traffic lights in Industrial Areas 3, 4, 5, and 6 also stopped functioning due to the power outage and Anjad police patrols closed off the intersections and diverted traffic, which in turn caused a heavy traffic jam for motorists heading from Dubai and into Sharjah.
We are used to power cuts back home in India, but here never like this. It's really HOT man! We cant go out because it's HOT! Being bachelors in this situation is ok, but hundreds of families have suffered. Children, no comments! Its like being in an oven and cooked slowly at an a constantly increasing temperature!
Many families with cars slept in them. Others with none had no choice but being baked in the heat.
The Sharjah Electricity and Water Authority (SEWA) are not responding. There are still power cuts in many areas of Sharjah today as I write. I am hoping it wont go again.
Let's hope SEWA solves their problems quickly.
Other posts that are interesting: