---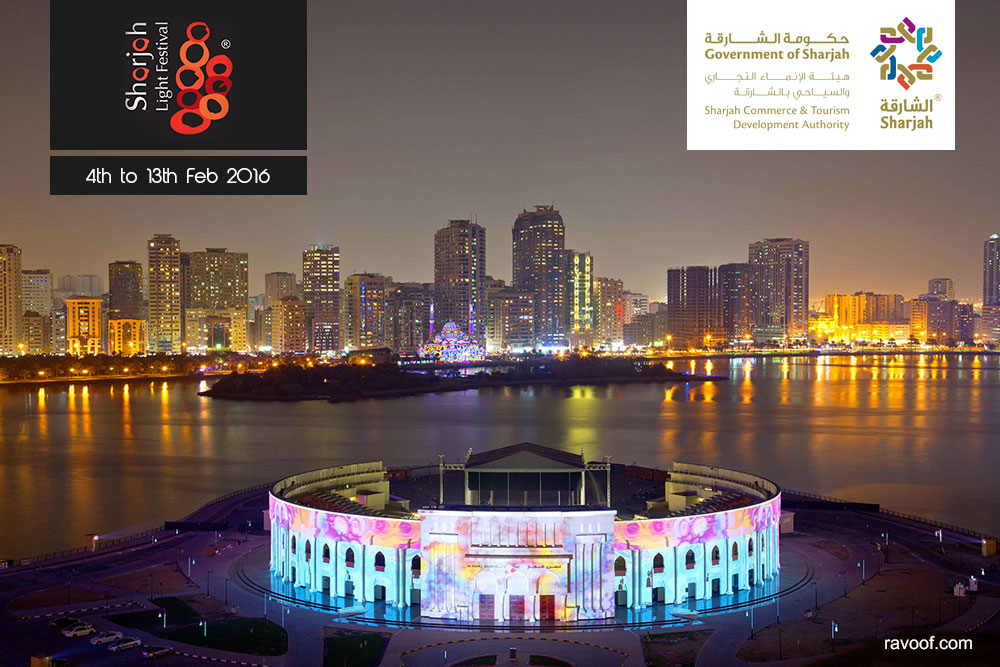 Sharjah Light Festival 2016 Unbelievable Light Shows! 4-13th Feb
The Sharjah Light Festival started in the year 2011 and has come a long way since. The Chairman of Sharjah Commerce and Tourism Development Authority said, "…the Emirate of Sharjah will wear a new robe of exquisite beauty decorated with the best of oriental art and colours, celebrating Sharjah's Islamic civilization and the legacy of our ancestors."
Recognised the world over as the centre of Arab and Islamic culture and civilisation, Sharjah was declared by UNESCO as the Culture Capital of the Arab World. The Sharjah Light Festival will use the magic of lighting and latest technology to narrate the story of Sharjah's Islamic heritage, history and magnificent architecture.
Come visit the Sharjah Light Festival
It is one of the most popular festivals and cultural events in the Emirate's cultural calendar. The light festival which portrays the Islamic architectural brilliance of the city's celebrated monuments, landmarks and cultural heritage has been hugely successful and popular, attracting more thousands of visitors each year.
Artists from all over the world paint the city of Sharjah with colourful lights and bring about the rich cultural identity of the emirate.
This years theme "Travel Across Time" aptly displays moments from the UAE's art and cultural history.This year will be bigger than ever covering over 23 locations across the Emirate.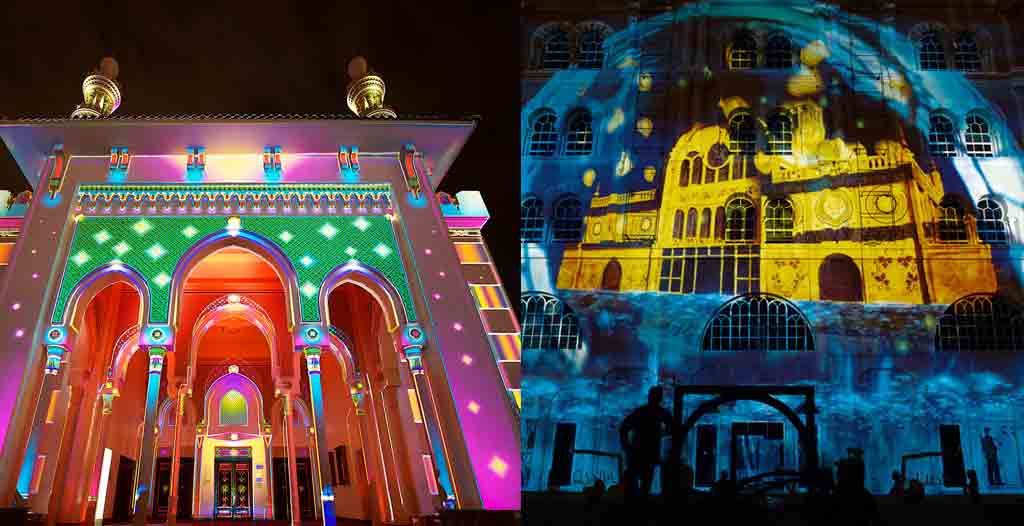 Sharjah Light Festival
The chosen locations this year include:
Al Qasba; Al Taqwa Mosque, Al Noor Mosque;Al Maghfira Mosque; University City Hall; The new Planetarium; Al Qasimi Mosque; The new Jubail Fish and Vegetable Market; The Family Supreme council of affairs; Al Majaz Amphitheatre; Cultural Square; Cultural Palace; Khalid Lagoon Corniche; Al Majaz Waterfront; Flag Island; the bridges; A few mini locations across the city,
Outside the city there will be events at Khorfakkan University; Dibba; Kalba and Al Dhaid. So you should have plenty of opportunity to get involved. With some interactive locations around the corniche it will be an exciting event.
Al Qasimia University and Masjid Al Qasimia University are hosting a set of captivating shows. The new building of the Al Qasimia University, which is known for its imposing infrastructure, features the show, "A Falcon's Flight." The show will open with a huge velvet curtain sweeping across the enormous building façade, describing the story of a falcon's travel to enchantingly beautiful places.
Masjid Al Qasimia University with its exquisite architecture hosts the show, "Inspiring Islamic Architecture." Situated next to the awe-inspiring Al Qasimia University, the Masjid has been attracting attention during the festival with a show that takes visitors on a journey through time and space to some of the most amazing architectural buildings from across the Islamic world. During the show, the columns, pillars and arches of the mosque get transformed into a variety of styles and designs, providing a rare visual delight to the visitors.
One of the attractive aspects of the show is the three-dimensional effects projected on the building walls.
Date: 4th – 13th Jan 2016
Time: The Sharjah Light Festival shows will be held every day from 6.30 pm to 11 pm on weekdays, and from 6.30 pm until 12 midnight during the weekends.
Please have a look at the Sharjah Stamp Exhibition 2015
Official website of SLF
Other posts that are interesting:
happy wheel
---