Sharjah, the "Capital of Islamic Culture", will hold the Sharjah Stamp Exhibition 2014 in association with  the Emirates Philatelic Association and Mega Mall, Sharjah.
Venue:   Mega Mall, Sharjah
Dates:   11 – 15 November 2014
The official launch will happen on the 12th of November 2014 at the Garden Court, Mega Mall, Sharjah at 11 am.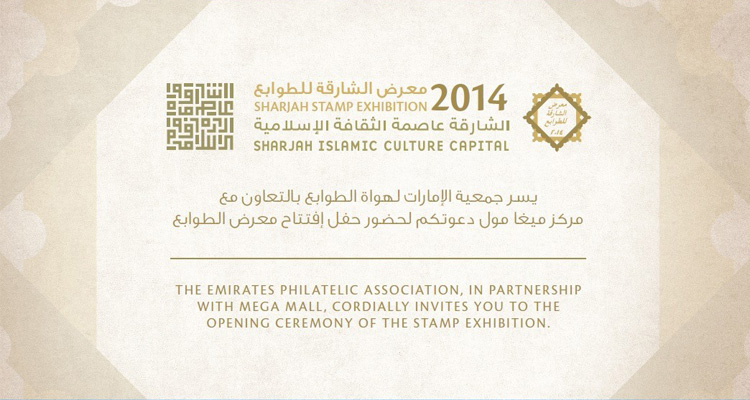 History of Stamps in Sjarjah
Civil mail from Sharjah went through the post office in Dubai until 1963. Military mail from the British Forces stationed in the area went through the RAF airport in Sharjah.
On 10 July 1963, Sharjah opened its own post office and began to issue its stamps and postal stationery under the name of Sharjah & Dependencies (which included Kalba, Khor Fakkan, and Dibbah). There were also unauthorized overprints using Himriyyah, a name of a village in the sheikhdom. Sharjah and its dependencies joined the United Arab Emirates on 2 December 1971, but it continued to issue its own stamps. On 31 July 1972, the UAE assumed full postal responsibilities. Nevertheless, Sharjah continued to use its own stamps until the issuance of the first UAE definitive series on 1 January 1973. Covers with mixed UAE and Sharjah frankings are known.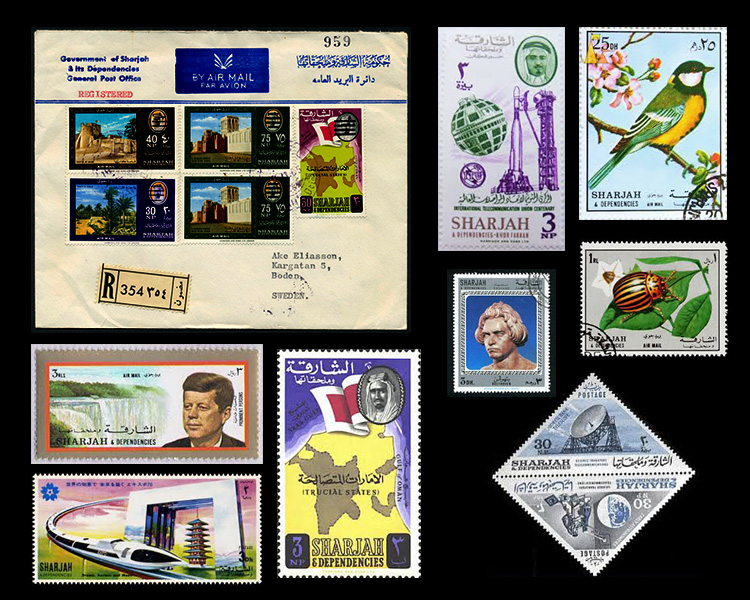 In 1972, a Federal Decree established the General Postal Authority under the Ministry of Communications, which issued the first set of stamps bearing the name of the United Arab Emirates in 1973. These stamps won the admiration of stamp enthusiasts throughout the young country, chiefly expressed the common idea of unity of the seven Emirates under one flag and one logo, and a strong leadership with deep commitment to achieve progress.
The set was made up of 12 stamps representing various characteristics of
the country. The stamp representing the Emirate of Umm Al Quwain was withdrawn from circulation because of a technical error on the stamp, and it is now being sold at high prices. The landmarks used in the referred set of stamps included:
| | | |
| --- | --- | --- |
| 1. The flag and Map of the UAE | 2. the UAE Emblem | 3. Sheikh Zayed's Picture |
| 4. Al Maqta Bridge in Abu Dhabi | 5. Clock Tower in Dubai | 6. Khor Fakkan |
| 7. ِAl Zaher Palace in Ajman | 8. Khor Khuwair in Ras Al Khaimah | 9. Fort Bithna in Fujairah |
Philately in the UAE has been popular among school students and some intellectuals, especially among those with links to culture, education and trade with other countries of the world. Their attention was drawn to the stamps affixed to letters and other postal items. Thus, they began collecting stamps, and their numbers grew steadily as the number of intellectuals, educated people, and businessmen grew. On 24/6/1996, a group of philatelists, with the assistance of Emirates Post, established the Emirates Philatelic Society, in collaboration with the General Postal Authority, giving it an independent legal entity.
Since then, Emirates Philatelic Society has been managed from the main office in Bur Dubai – next to Dubai Museum – which was donated by the Dubai government and became fully independent from Emirates Post in administrative aspects. The society is making tremendous efforts to spread Philately by organizing stamp exhibitions in commercial centers and participating in fairs outside the UAE. The Society is a member of the Asian Philately Union and the International Philately Federation.
Where to buy Stamps in UAE?
Abu Dhabi Central Post Office
Dubai Central Post Office
Dubai International Airport Transit Lounge Counter
Deira Main Post Office
City Centre Post Office Counter
Sharjah Central Post Office
Ras Al Khaimah Central Post Office
Al Fujairah Central Post Office
Some common Philatelic terms
1- Definitive Stamps
Definitive stamps are used as fees for postal services. They are printed in large quantities and available in all post offices and postal agencies.
2- Commemorative/Special Stamps
These stamps are issued to commemorate a particular event and special occasions locally and internationally. These stamps are printed in limited quantities and available for a limited period only. They are sold at post offices and Philatelic bureaus.
3- First Day Cover
It is an envelope issued bearing the images stamps and souvenir sheets and cancelled with a special cancellation seal. It is issued on the first day of issue.
4- Stamp Booklet
A booklet that contains a set of stamps with an attractive cover.
5- Stamp Year Pack
It is a collection of stamps issued during the year in one book, which makes it a valuable and attractive gift, and is available in the offices that provide Philatelic services.
6- Souvenir Sheet
It is issued for special and commemorative subjects in limited quantities and is available in Philatelic bureaus.
7- Stationery for stamp collectors
Stationery is provided for stamp collectors, including stamp tongs, magnifiers, albums, and perforation gauge. These are available in the Philatelic bureaus.
8- Post Cards (Greeting Cards)
Issued on special occasions in limited quantities. These are available in the Philatelic bureaus.
Emirates Philatelic Association – http://www.epa.ae
Other posts that are interesting: